Dog Walking
We walk your dog off-leash at designated Calgary off-leash parks. We can walk on-leash there as well or walk on safe walking paths in and around Calgary.  Upon your approval we can provide a tasty treat, notify you of anything unusual during your pet's outing and forward pictures/videos to you of your happy dog's excursion via e-mail, text or other social media avenue. All dogs are walked privately for a minimum of two walks so a bond can be established between us and your dog.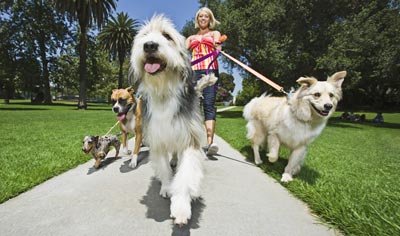 If your dog is aggressive and you request a group walk, a muzzle may be requested to ensure the safety of other dogs and people, until such time we deem it unnecessary. We will also do our best to group packs accordingly. We need to be made aware if your dog isn't spayed or neutered so we are prepared for potential behaviours that may arise.
Your dog(s) will be picked up and transported in a safe, secure, temperature controlled vehicle. Upon arrival at the dog park, the one hour walk will commence. (travel time is not included in the walk) If you require them to be confined, we may ask that you please supply your own crate, as we have limited quantities at the moment. Don't want your dog transported to a dog park, we can take him or her around the neighbourhood. Work shift work? We also specialize in evening and weekend walks as well. There is no extra charge at this time for this service.