Services
We provide a wide range of services. They include:
Member Of Pet Sitters International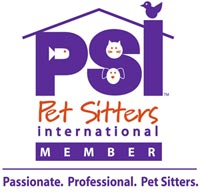 First Aid and Pet First Aid Trained

Special Notes
Please note, on any visits other than dog walking, we require a text message, e-mail or phone call to let us know you arrived home safely and on schedule. This is to ensure your pets care and safety. If your schedule changes, we would like to be notified as well, so we can plan accordingly.
All services start with a free, in home consultation with you and your pet(s) at your convenience to discuss you and your pet's needs, get an orientation of your home, plus key pick up/return arrangement and payment agreement. An in-depth "new Furbabies member interview" will be done so we can get all the details regarding you and your pets' needs while in our care. We will confirm dates and times for the type of service requested, have you fill out the required forms and sign the service agreement. We can get the key from you then, or arrange a time for pick up prior to your departure. A photo copy of the service agreement will be left for you, with the invoice for when you return. Please note that all information obtained is kept confidential and will be put in our database so we have all the pertinent information for future visits. Payment of services is required at this time or at the agreed upon pickup of key. We accept cash, cheques or money orders.  Arrangements will be made to drop off the keys after you arrive home or left in a designated area (we need access to it until we know you are home, in case we need to care for your pets a little longer.  Payment for pet/house sitting services is due prior to commencement of services (either at the initial consultation or when key is picked up). Payment for on-going, regular Dog Walking Services will be invoiced and due 10 days from invoice (once relationship has been established). Late fees will apply (see service agreement) A $30 fee will apply for all NSF cheques.
Reservations
We strongly suggest that you make a reservation at least a week in advance, prior to your departure, se we can guarantee care for your fur babies. To make reservations you can contact us by phone at (587) 777-9255(WALK), through our contact page, or e-mailing us at [email protected]. If you are new to Furbabies Walk 'N' Sit Pet Services, allot some time for our consultation and payment and key exchange, prior to the start of any services.
Rates
Furbabies offers very competitive rates, with no rate hikes for evenings, weekends or holidays at this time. Prices are subject to change in the future, with 30 days notice to our regulars. Discounted rates for Service dogs, Foster Homes, Tri-Emergency Services (Police, Fire, Ambulance), Seniors, Disabled.
Referral Service
Recommend Furbabies Walk 'N' Sit Pet Services for walks or pet sitting services and your dog gets a free walk or a discounted rate on your next pet sitting booking. Recommend our Home Security Service and get a discounted rate on your next booking.